Bertelsmann Sense of Purpose
Why do we do what we do? In 2016, Bertelsmann responded to this question by formulating a purpose statement – or "sense of purpose" – offering guidance and giving orientation to its companies, partners and employees.
"To Empower. To Create. To Inspire." – these three terms form the "Bertelsmann Sense of Purpose," Bertelsmann's response to a key question: What is the company's purpose?
Bertelsmann Sense of Purpose
To Empower. To Create. To Inspire.
To Empower means that Bertelsmann will – acting as a decentralized company – continue to provide its employees, management staff and entrepreneurs with the freedom that empowers them to achieve. Also, through its products and services, Bertelsmann contributes to society by empowering and educating its customers.
To Create translates into the countless opportunities Bertelsmann provides in terms of creative development and new business. In doing so, it opens up new domains for creative people – who in turn develop original products and services for customers, readers, viewers and listeners.
Finally, To Inspire stands for Bertelsmann's motivating working conditions and its inspiring products and services.
"In times of digital disruption and organizational transformation, maximum guidance is essential," says Immanuel Hermreck, Chief Human Resources Officer of Bertelsmann. He adds that Bertelsmann has changed steadily over recent years, "and these conversations kept raising questions of identity and purpose." The company's newly formulated purpose serves as a "Bertelsmann compass for our shared journey into the company's future," says Hermreck. It is meant to shine inward, a beacon that gives orientation to employees and provides a more holistic understanding of the work they do. "Make no mistake: a sense of purpose you can identify with pays huge dividends when it comes to employer branding – this is enormously important, particularly to our younger generation of colleagues," says Hermreck.
It should not come as a surprise, then, that a strong sense of purpose has a direct impact on the company's bottom line. According to a recent Harvard University study, purpose-oriented companies generate up to six times as much profit in the long term compared to companies driven exclusively by financial ends.
So, how did Bertelsmann go about (re)discovering its purpose? It was the result of a "soul-searching process" throughout the entire Group, emerging after hundreds of conversations with employees, executives and shareholders. "A company's sense of purpose is something very subjective and we believe, therefore, could only come from within the company," says Hermreck.
And by the way, searching internally for answers related to purpose has a long tradition at Bertelsmann. Reinhard Mohn sketched out the basic principles of today's Bertelsmann Purpose through his understanding of entrepreneurship based on freedom, partnership and delegation of responsibility.
The result of this purpose process – namely, Bertelsmann's new purpose statement – deliberately gives individual divisions and business units room for interpretation, providing the "space" to impart their own sense of purpose to their businesses, employees and customers. In a decentralized company like Bertelsmann, this is believed to be the ultimate test for a new purpose: does the purpose connect everyone, and is it meaningful to everyone? Bertelsmann is convinced that "To Empower. To Create. To Inspire." does just that.
Corporate Responsibility
We strive to act as responsible entrepreneurs – in our business settings, toward our employees, in society and in our treatment of the environment. This is an integral part of Bertelsmann's corporate culture. Our aim is to reconcile the Group's economic interests with social and environmental concerns, in dialogue with all relevant stakeholders.
Strategic Development
Bertelsmann is continually reviewing the strategic development of its corporate responsibility (CR) management. This comprises setting targets across the Group, matters of cross-divisional coordination and collaboration, and transparency regarding the prioritized CR topics. With forthcoming statutory reporting requirements in mind, the focus is on the further development of management approaches and performance indicators for relevant thematic areas: education, press freedom, fair working conditions, the protection of media users and customers, diversity and eco-efficiency.
Organization
In the Bertelsmann Corporate Responsibility Council, high-ranking representatives of the divisions regularly meet under the chairmanship of the Chief Human Resources Officer. Together, they advance the strategic development of CR at Bertelsmann and contribute an operational perspective from the businesses. At the Group level, the Corporate Responsibility and Diversity Management department coordinates and supports the work of the CR Council, reporting to the Group Chief Human Resources Officer in close collaboration with other corporate functions. Specific CR projects and measures are implemented in a decentralized manner at Bertelsmann. The divisions and companies have set up their own structures and processes for this, according to local requirements.
Ethics & Compliance
Bertelsmann has established an extensive Ethics & Compliance program. The program's foundational document is the Bertelsmann Code of Conduct, which is built on the Bertelsmann Essentials and which codifies the obligation for ethical and legally compliant conduct for all employees. Additional guidelines were issued to cover key topics, such as anticorruption, antitrust, foreign trade and business partner compliance. Employees undergo thorough training and consultation. Compliance violations will not be tolerated. Suspected violations are immediately investigated and verified violations are dealt with promptly. The program's effectiveness is ensured through regular evaluation and risk-driven adjustments.
Information on how Bertelsmann meets its responsibilities can also be found online at:

www.bertelsmann.com/responsibility

In addition to facts and daily news on CR initiatives, you will find documents such as the Bertelsmann Code of Conduct and the Carbon Footprint. Beyond this, an interactive online index provides information about key processes and performance indicators in accordance with the guidelines of the "Global Reporting Initiative."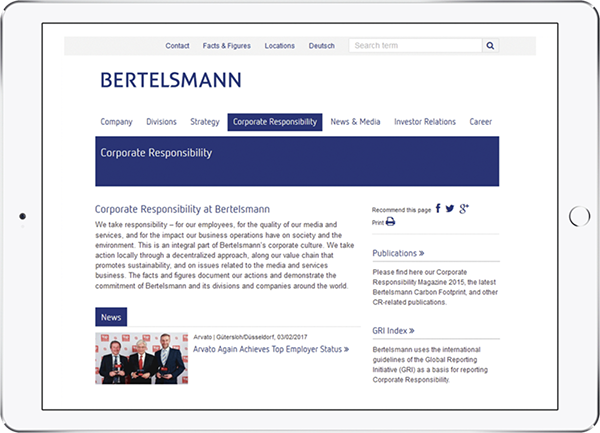 In 2016, Bertelsmann also reported on its CR activities in the "24/7 Responsibility" magazine.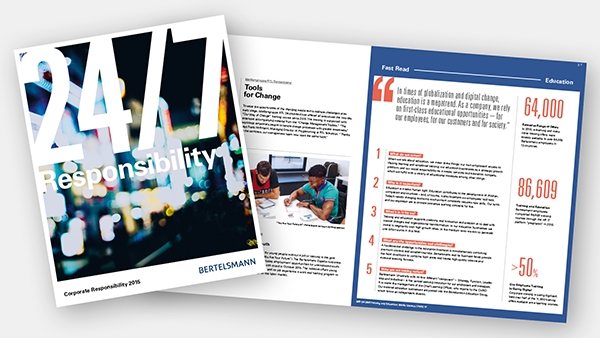 Group Dialogue Conference
Involving employee representatives in operational processes of change, broadening the structures for obtaining feedback on the leadership conduct of supervisors and handling the challenges of demographic change – these topics were the focus of the fifth Bertelsmann Group Dialogue Conference, where CEO Thomas Rabe and CHRO Immanuel Hermreck once again met with German Corporate Works Council members. At Bertelsmann Unter den Linden 1, Berlin, the participants took this top-level constructive dialogue as an opportunity to discuss current concerns from the companies and individual divisions.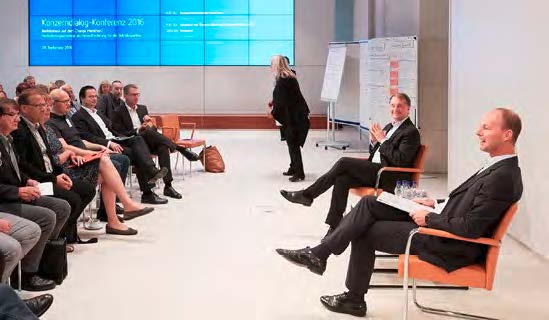 Taking Part Means Taking Action:
The Employee Survey 2016
As a key instrument of partnership in action, the Employee Survey has been among the most important elements of Bertelsmann's corporate culture for close to 40 years. In 2016, 89 percent of employees around the world seized the opportunity to take part, anonymously evaluating topics such as work environment, cooperation with supervisors and coworkers, opportunities for training and development, and management change in the Group. In the next phase, executives and employees will jointly analyze the company and team results, derive potential for improvement and agree on specific actions.
Climate Protection and Environmental Management
In order to produce books, magazines and catalogs; movies and TV content; and digital formats and to provide services and technology-driven business solutions, Bertelsmann businesses all over the world rely on natural resources. Climate protection and energy and resource efficiency are therefore important aspects of CR. In 2016, Bertelsmann published its fifth Carbon Footprint at: www.bertelsmann.com/responsibility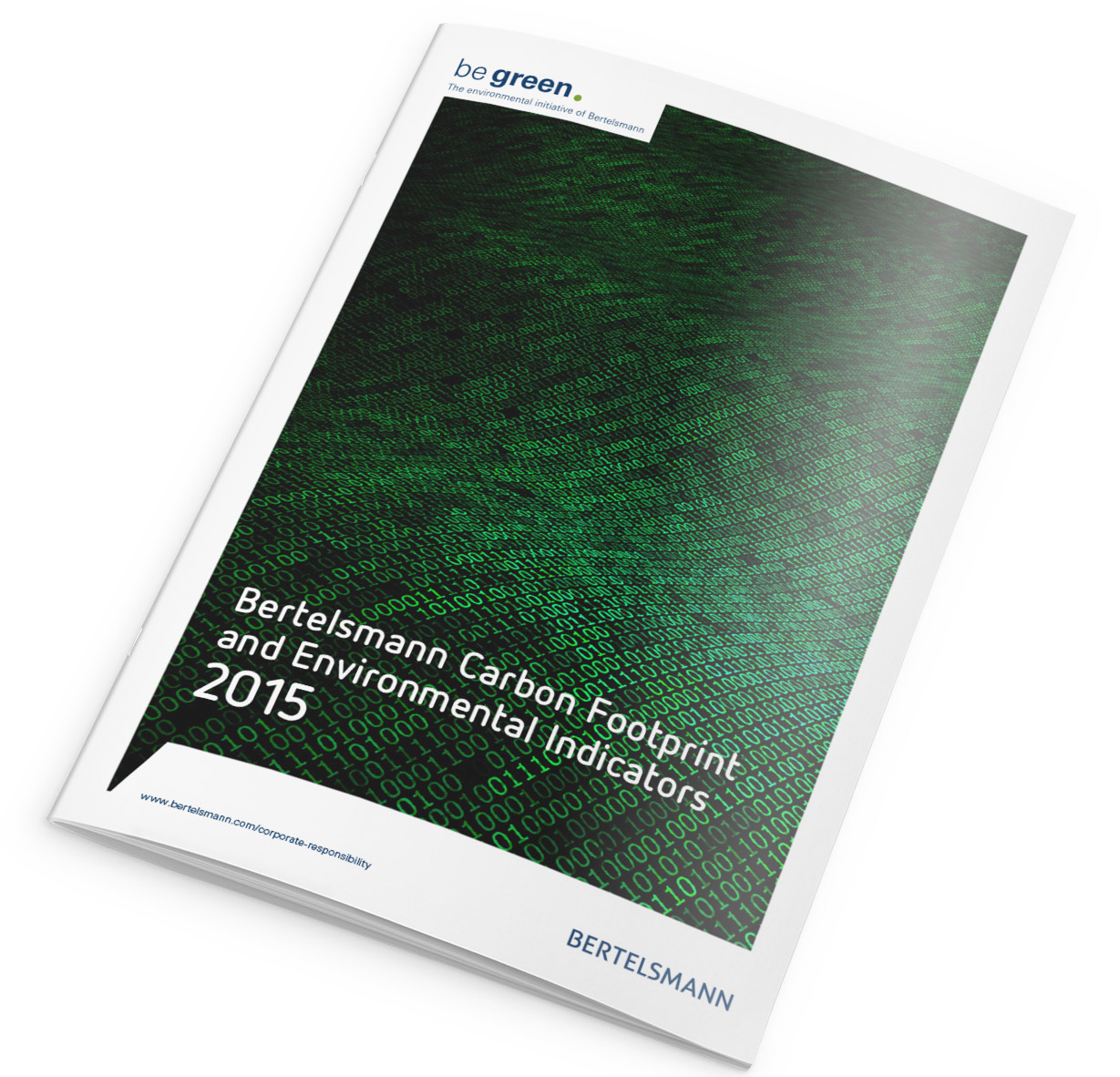 Diversity Conference
The 2016 Bertelsmann Diversity Conference demonstrated that diversity doesn't just have social benefits – it also leads to economic advantages. It was held under the heading "Open Minds for a New Bertelsmann." CHRO Immanuel Hermreck invited around 110 participants to Berlin for two days, including members of the Executive Board and the Group Management Committee (GMC), executives, Corporate Works Council representatives and HR representatives from 13 countries. The event focused on business cases from the divisions and the topics of unconscious bias and creativity. New activities were proposed and discussed in various breakout sessions.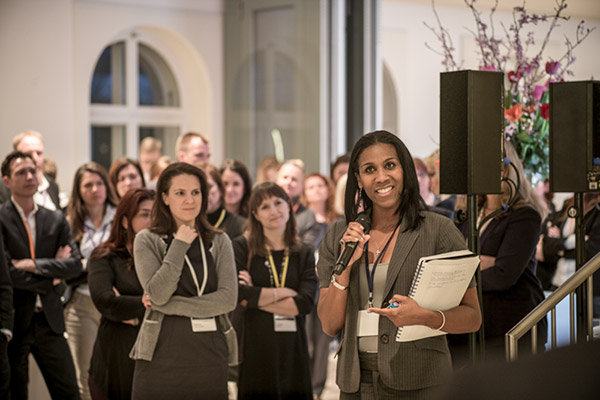 Digitization in Elementary Schools
More than 3,500 elementary schoolchildren in Gütersloh will soon have better computer equipment – Bertelsmann has donated a total of €600,000 to the city to expand and modernize the IT equipment at its 17 elementary schools. The money – Bertelsmann's largest donation in recent years at its corporate headquarters – will be used to buy mobile IT devices for teaching, a basic requirement for learning and related educational work in the digital world.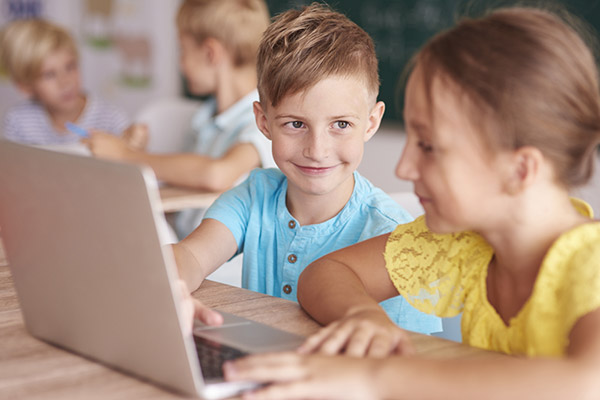 Bertelsmann Essentials
The Bertelsmann Essentials convey the goals and basic values of our company's employees, executives and shareholders and build on the Corporate Constitution. It is the responsibility of our executives to spread and epitomize these values and to serve as role models. The Bertelsmann Essentials reflect the common understanding of our corporate culture and are subject to constant review, revision and improvement.
Our Mission
Bertelsmann is a media, services and education company. We provide information, entertainment and media services to inspire people's daily lives. We aspire to make a valuable contribution to society. We strive to be leaders in our markets and achieve returns on capital employed that guarantee growth and continuity of our corporation. Our joint efforts focus on creative content and customer relations. We seek to provide working conditions that are equitable and motivating for our employees. We commit ourselves to ensuring the continuity and ongoing progress of our corporation.
Our Commitment
We expect everyone at Bertelsmann to adhere to this mission and these core values.
Our Core Values
Creativity
We provide a home for artists, authors and creative talent in all of our fields of business, promoting their creative development and commercial success. We strive for the protection of intellectual property on a worldwide basis. We promote artistic freedom and freedom of thought, the protection of democracy and human rights, and the respect of traditions and cultural values. Consequently, the content we provide reflects a wide range of viewpoints and opinions. Continuous innovation and improvement, guided by customer needs and interests, are the cornerstones of our success.
Entrepreneurship
The principle of decentralization is at the heart of Bertelsmann's management philosophy. It enables our employees to act with flexibility, responsibility, efficiency and entrepreneurial freedom. Our operating businesses are run by managers who act as entrepreneurs: they enjoy considerable independence and bear full responsibility for the performance of their companies. Our executives act not only in the best interests of their individual businesses, but are also committed to the interests of the Group as a whole.
Partnership
Our corporate culture is based on a mutually beneficial partnership between our employees and the company. Motivated individuals who identify with the company and its values are the driving force behind quality, efficiency, innovation and growth within our corporation. The hallmarks of our participatory leadership approach are mutual trust and respect as well as the principle of delegation of responsibilities. Our employees enjoy autonomy to the greatest extent possible. They receive comprehensive information and participate in decision making and our financial success. We are committed to the professional development of our employees and seek to provide long-term employment.
Citizenship
The continuity and development of Bertelsmann as an independent entity is ensured by the Bertelsmann Verwaltungsgesellschaft's (Bertelsmann Management Company) control of the majority of voting rights. In the view of our shareholders, the possession of property creates an obligation to the community. They believe that, in a market economy, a corporation derives its legitimacy from making a valuable contribution to society. The work of the Bertelsmann Stiftung – to which the majority of Bertelsmann shares has been contributed – is also guided by this principle. Our businesses are managed in accordance with the spirit and the letter of the law. They maintain high standards of ethical conduct and act responsibly toward society and the environment.