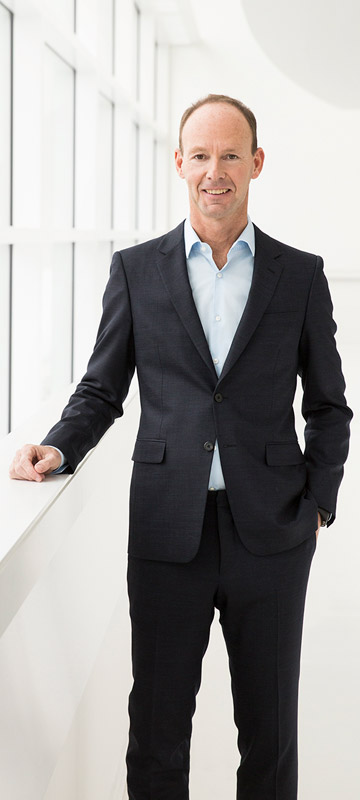 Bertelsmann had a successful year in 2016. We achieved a positive business performance with a record operating result. And we made further strategic advances that brought us closer to our target portfolio – Bertelsmann is becoming a faster-growing, more digital, more international and more diversified company.
Thanks to improved organic growth, our revenues reached €17 billion despite negative exchange rate and portfolio effects. RTL Group, Arvato, BMG and the Bertelsmann Education Group all contributed to organic growth. At €2.6 billion, our operating EBITDA reached a new high, despite start-up losses for digital and new businesses. The increase was primarily driven by RTL Group, Arvato, BMG and Gruner + Jahr. At more than €1.1 billion, Group net income exceeded the previous year's high level.
The development of our key indicators over time shows that the Group's transformation during the past few years has paid off. This can be seen in our new corporate structure with eight divisions, whose development we are documenting for the first time in an annual report. And it is also accompanied by other strategic advances we made in 2016.
Strengthening the core was realized, for example, in the further expansion of RTL Group's families of channels, in Gruner + Jahr's cofounding of Deutsche Medien-Manufaktur with the Landwirtschaftsverlag publishing company and in the acquisition of major new customers by Arvato and Bertelsmann Printing Group.
At the same time, we continued the digital transformation of our businesses. Mediengruppe RTL Deutschland acquired the online video marketer Smartclip, Penguin Random House grew its e-book offerings to 128,000 titles, Gruner + Jahr generated nearly a quarter of the revenues in its core markets Germany and France with digital offerings and Arvato grew with customers in the IT and high-tech sectors.
We also expanded our growth platforms. Fremantle Media strengthened its position through new investments and partnerships, and BMG made a series of acquisitions and catalog purchases. In addition, our music division signed numerous new artists and writers, including Pink Floyd legend Roger Waters. Arvato's e-commerce and financial services continued to grow, and our education business expanded as well. Our e-learning subsidiary Relias Learning grew organically and through acquisitions, and it expanded its business internationally – as did the e-learning provider Udacity.
We also strengthened our footprint in the growth regions. Our investment funds, which are grouped in Bertelsmann Investments, played a major role in this by investing in more new companies than ever before – 43 in total. They included the fitness app Keep (China), the Fintech company Lendingkart (India) and – together with our partner Bozano Investimentos – the education company Medcel (Brazil).
We will continue to develop in the years ahead. Our colleagues' commitment and dedication will remain the most important foundation for innovation and growth at Bertelsmann, and I would like to take this opportunity to express my sincere appreciation to them.
We are pleased that you are joining us on this journey!

Thomas Rabe